Taking no time to get started on my one personal project, removing the carpet in the craft room. I'm feeling pretty good. Here is a before picture of the craft room:
Notice the lovely wallpaper, false ceilings, and molted brown carpet? I'm removing the carpet and had planned to take down the false ceiling as well. However, the false ceiling was there for a reason - a quarter of the ceiling was removed for some bathroom repairs or installation. We'll be leaving the dropped ceiling in place for now. Following are a couple of progress photos: carpet removal and false ceiling inspection: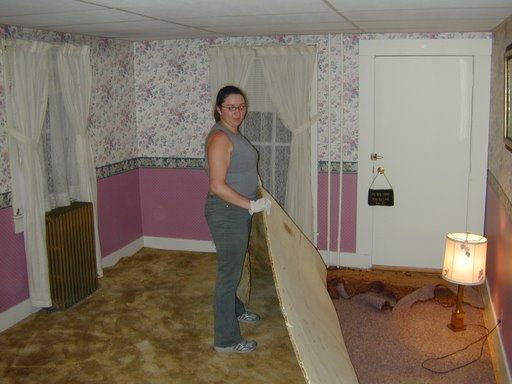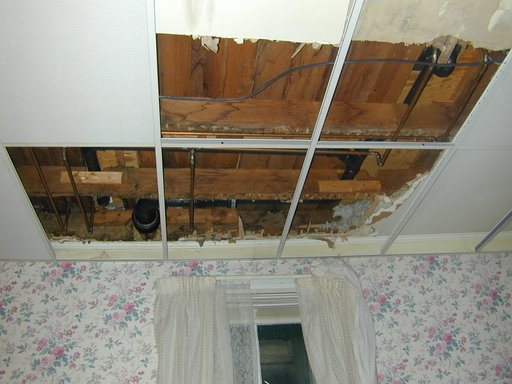 Cleaning up the craft room floor took a lot of work. Under the carpet and padding was just plywood underlayment that had gotten wet several times. This made the foam padding stick to the plywood and caused lots of warping as well. Alex and I got all the padding scraped and scrubbed off eventually.
After getting to the last stage with the craft room floor, I decided to peak under the carpet in the dining room. The threshold between the two rooms showed some nice looking wood floor, but I wanted to verify that it extended beyond the doorway. Here is a before picture (the only before picture we have of the dining room) and the awesome wood floors hidden under the carpet: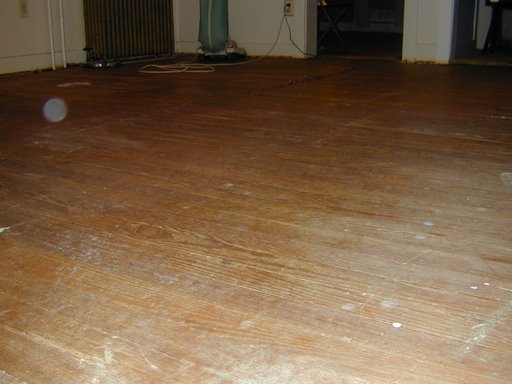 These floors are in great condition, just some final cleaning and a new sealant/wax/something on top and they're good to go. There are the random paint marks, one looks intentional, but I'm okay with that - I like house with character.
So far, I've removed all the carpet tack strips and still need to get the staples up. I'm scrounging for some vinyl remnants that I can throw into the craft room for now. The proper thing to do would be the level out the floor (probably with new underlayment and leveling compound) before throwing down vinyl - but that isn't in the cards for now.
I keep glancing at the library/sitting room and am itching to get that carpet up too, but will at least wait until the craft room and dining room is done. Chris was anxious about me pulling up the dining room before finishing the craft room, so I better not push my luck removing carpet in another room. I want to have the dining room completely done by Friday and maybe even do the sitting room in that time too. The craft room is waiting on finding some vinyl - I'm hitting up the Habitat for Humaninty ReStore later this week and checking out all the clearance bins too.